When it comes to selecting a show-stopping chandelier for your home, most people focus on the design, style, and size of the fixture. However, there's one crucial aspect that often gets overlooked, especially when you're dealing with large chandeliers—doorways.
Your doorway's dimensions and clearance are essential considerations in ensuring a seamless installation. In this blog, we'll shed light on some key points to keep in mind when choosing a doorway chandelier for your home.
Standard interior doorways typically measure around 30 to 34 inches, while exterior doorways range from 32 to 40 inches. To ensure a seamless fit, it's crucial to measure your doorway's width.
Additionally, take into account any walls, hallways, or passageways that might obstruct the chandelier's path to its final destination. Taking these measures will ensure our antler chandeliers will fit your space and prepare you for the installation process.
The XXL Mt Bross contains 30 lights and is approximately 120″w x 96″h. Making its dimensions nearly triple the standard doorways!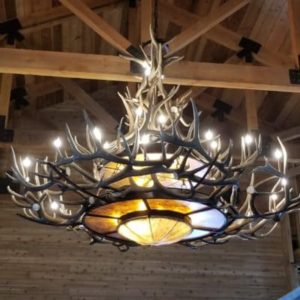 However, this particular antler chandelier is built in three separate pieces. Allowing you a stunning large chandelier without the need for a castle-sized door!
Similarly, the Large Mt Bross Chandelier is built in two separate pieces and features 13 lights with 60"w x 60″h dimensions. A chandelier of this size is also too large to fit through a standard doorway.
Instead of handing this issue off to you, we construct the chandeliers into two pieces that can be easily reassembled upon delivery. Giving you the freedom to choose an antler chandelier that properly suits your home without the worry of how you will squeeze it through your door.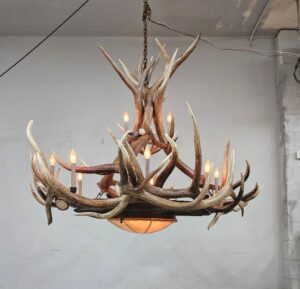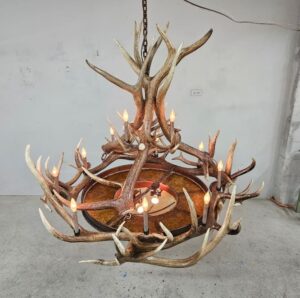 Putting the Pieces Together
Once a large chandelier is delivered, we provide clear labeling and easy instructions on how to reassemble the pieces.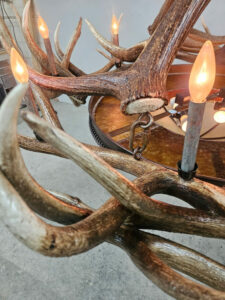 Each unit of the antler chandelier is carefully labeled, and the plugs are designed for easy alignment. All to ensure a smooth and simple installation process.
When selecting a large chandelier for your home, remember that the doorway plays a crucial role in the process. By considering the dimensions, clearance, and overall space, you can ensure a seamless and elegant installation. Let your chandelier make a grand entrance, just like you do in your beautiful home.