Antler Lighting Buying Guide
Buying antler lighting can be confusing – there's so much to consider when shopping for antler chandeliers, pendant lighting, or sconces. Many Antler lighting fixtures are grand in scale, simply because the antlers of some creatures, like elk and moose, are so large. When buying antler lighting, you can spend hours shopping for just the right antler chandelier, only to realize it's far too big for your home.  Medium and small antler lighting is available – it's made from the naturally shed antlers of white tail deer, mule deer, and fallow deer from Europe.  Figuring out what size and style antler lighting is best, and how many lights your room needs, doesn't have to be an ordeal – the Peak Antler Co. is here to help with our Buying Guide.
The Buying Guide For Antler Lighting:
We'll begin by showing you how calculate the correct number of lights for your room. It's important to know how much illumination you need before you shop. Consider the purpose of the room, its dimensions, and how you'll be using it.
Next, we'll look at fitting antler chandeliers into different size spaces.  Understanding the scope of your lighting project before you begin makes the selection process easier and more fun.
What Type of Antler Lighting Is Best For Your Project?
First, decide if your antler lighting pieces will be used for ambient lighting, task lighting, or both. Interior Designers use a combination of all three types of lighting to "layer" a space. This helps create a beautiful interior while meeting the needs of the room's occupants. Here's a quick explanation:
Ambient lighting illuminates the entire space for general use, and helps create the atmosphere. An antler chandelier used for ambient lighting should have enough bulbs to fully light the entire room. We recommend adding a dimmer switch, so you can enjoy your chandelier at different levels of brightness. Examples of ambient lighting include this large antler chandelier in a double-height entry: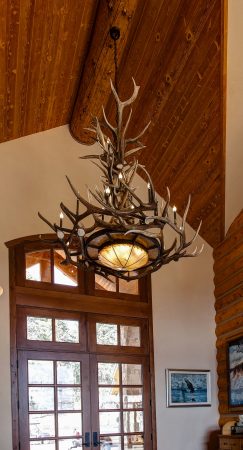 These Antler Wall Sconces: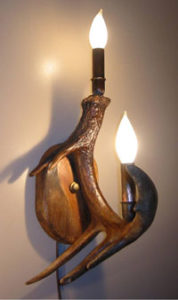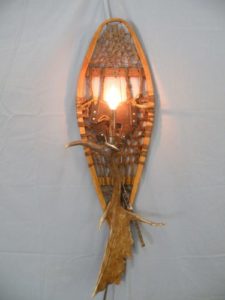 Or small antler ceiling fixtures for a hallway or foyer: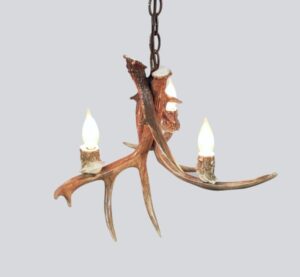 Task lighting is directed at a specific area, such as a desk, kitchen counter, or dining table. Brighter than ambient lighting, it provides focused light for working. Pendant lights over a kitchen counter are a good example of task lighting: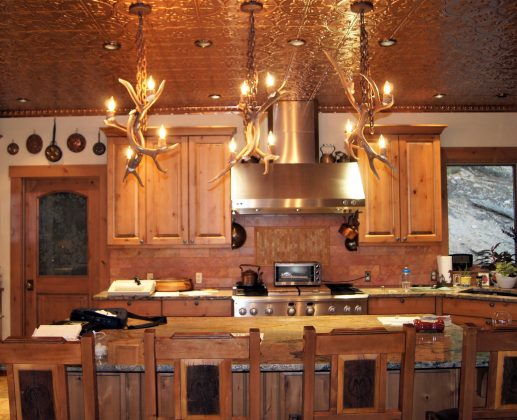 Some light fixtures provide both ambient and task lighting.  A chandelier with a dimmer will give you bright light while working at a dining table, and soft light for a cozy dining ambiance.
Buying The Best Light Bulbs For Antler Lighting:
The design of your room and light fixture will influence the style of bulb you choose; similar-looking bulbs come in varying levels of brightness.  Lighting designers measure illumination with units called lumens.  (In the past, a typical 100 watt incandescent bulb put out 1000 lumens.)  Modern, energy-efficient bulbs all have different outputs. Some CFLs put out 1000 lumens using only 23 watts. These Flame-Tip filament LEDs use only 4.5 watts. Resembling a 40-watt chandelier bulb, they put out 400 lumens each and are dimmable.  Edison Bulbs such as these Vintage 60 watt versions provide softer light, outputting just 220 lumens each.
To make sure your space is well-lit, you'll want to do a little math. Use our handy chart to figure out how many lumens you need:
| | |
| --- | --- |
| Lighting Type | Number of Lumens (lm) |
| Ambient | 20 lm per sq. ft. |
| Task | 50 lm per sq. ft. |
| Dining Tables | 30 lm per sq. ft. |
How do you do the math? Just measure the area that needs lighting, calculate the square footage, and multiply by the lumens you need. If you're lighting a dining room table, for example:
Measure your table.  96″ x 42″ is a typical dining table.
8 ft. x 3.5 ft. = 28 square feet.
Multiply the result by lumens (lm) required: 28 sq. ft. x 30 lm  = 840 lm
So, a four-light chandelier with 220 lm bulbs (a total of 880 lm) will light the tabletop.
However if the chandelier is the only dining room lighting, the rest of the room will be too dark. If your chandelier is lighting the entire room:
Measure your room and calculate the square footage:
Example: 14 ft. x 16 ft. = 224 sq. ft.
Multiply the result by Lumens required:
224 sq.ft. x 30 lm = 6,720 lm
To light the entire dining room, you'll need around 6,720 lumens
Choose an 8 or 10 light chandelier, and light bulbs that are 600-800 lm
Remember, you may only need the full brightness of the bulbs when working or cleaning the room, so install a dimmer for use while dining. You can also divide the lumen output between light sources – add buffet lamps or ceiling lights if you prefer a chandelier with fewer bulbs.
You can use this formula to estimate how many light bulbs you need for every room. If your antler chandelier will be used for ambient lighting, (such as a bedroom) multiply by 20 lumen, and for task lighting, (in a kitchen for example) use 50 lumen in your calculations.  Keep this number on hand as you shop for your antler lighting. Narrow your search to light fixtures with the number of bulbs you want.
How to Find the Right Antler Chandelier For Your Ceiling Height:
Ceiling height may be the biggest factor influencing antler chandelier size, especially in residential interiors.
A good rule of thumb for lighting over a dining table or bar is to hang it so the bottom of the light fixture is 32-36″ above the table or counter. This keeps it from blocking the view while still throwing light onto the surface. Our ceiling height chart tells you the tallest light fixture that you can use and still leave a 32″ space above the top of your table or bar:
| | | |
| --- | --- | --- |
|  Ceiling Height  |  Lighting Size, Dining  |  Lighting Size, Bar |
| 8 feet | 32 inches tall | 22 inches tall |
| 9 feet | 44 inches tall | 34 inches tall |
| 10 feet | 56 inches tall | 46 inches tall |
To use antler lighting as a ceiling fixture, remember to leave enough room to comfortably walk beneath it. The bottom of a light fixture needs to be well above everyone's heads in a bedroom, living room, entry, or hallway.  Here's a chart that gives you the maximum available space for overhead lighting, based on ceiling height:
| | |
| --- | --- |
|  Ceiling Height  |  Max. Lighting Height  |
| 8 feet | 18 inches |
| 9 feet | 28 inches |
| 10 feet | 40 inches |
| 12 feet | 64 inches |
| 14 feet | 88 inches |
| 18 feet | 136 inches |
| 24 feet | 208 inches |
Of course, you don't have to buy an antler chandelier that fills the entire height.
The length and width of the room is just as important when deciding on your antler light fixture's dimensions.   An average-sized room with a very high ceiling would be overwhelmed by a bulky chandelier – a three-tier design is best for lighting a tall, narrow space. A large space with lower ceilings may require several lighting sources.   This is when you'll be really happy you took a few moments to do the math! You'll have an idea of how many bulbs you need. Your architect or interior designer may also have some helpful input.
Now you can shop according to how much light you need, and how much space you have to work with.
The Best Antler Chandeliers for Low Ceilings:
If you have 8-foot or 9-foot ceilings, an 18″- 28″ tall antler light fixture can be hard to find.  Our handcrafted Mule Deer and Whitetail Chandeliers give you plenty of options:
The Best Antler Chandeliers for Foyers and Entries:
If your entry has low ceilings, you'll have room for antler lighting if you shop for small chandeliers and pendants.  For a tall foyer with a staircase, look for an antler chandelier with two or three tiers – they'll have lights distributed up to the top, to light the entire space:
Antler Chandelier Sizes For Dining Rooms:
An antler chandelier centered over a dining table needs to be smaller than the width of the table. A 36″ wide antler chandelier is the maximum width for a standard 42″ table. Even at that narrow width, we have antler chandeliers with up to 16 lights:
With 10 foot ceilings or more, add dining drama with our two-tier La Plata Peak Chandelier: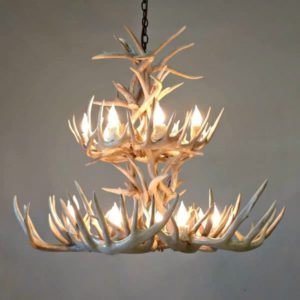 Or use a modern statement piece like the Elk Antler Globe Chandelier; with 5 lights, the 36″ globe fits perfectly over any dining table.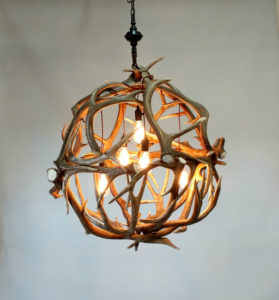 If you have a really long table, consider a pair of Globe Chandeliers, a series of pendant lights, or one of our long Snowmass Chandeliers: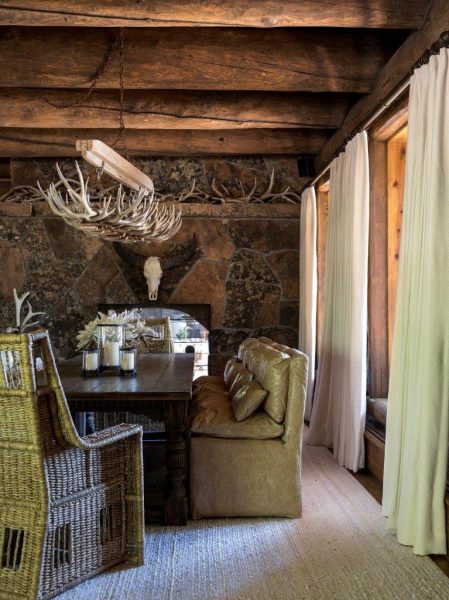 Round dining tables may be 5 or 6 feet in diameter – use a large round chandelier that's a few inches smaller than the table: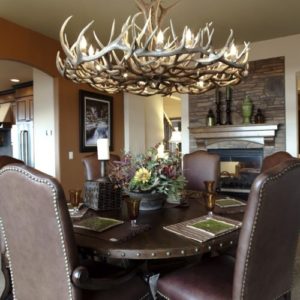 Remember, in a residential dining room the chandelier is centered over the table. In a very large dining room, you may need to add wall sconces or buffet lamps for additional lighting.
Antler Chandelier Sizes for Great Rooms:
A great room with a ceiling 14 feet or higher offers plenty of space for a large antler chandelier, or even more than one. Once you've planned your furniture layout, you can position chandeliers over each area. Be sure to measure the space and calculate how much illumination you'll need. This 24′ square, double-height great room in Colorado required 18,000 lumens. We used a pair of 24-light Mt. Elbert Chandeliers, centered over two seating areas, to light the room from floor to ceiling: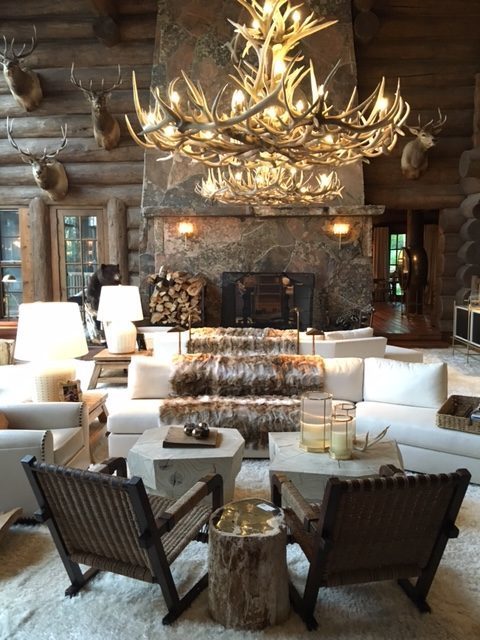 Another lighting solution for such a tall space is to hang one large antler chandelier in the center of the room, and place the furniture wherever you like: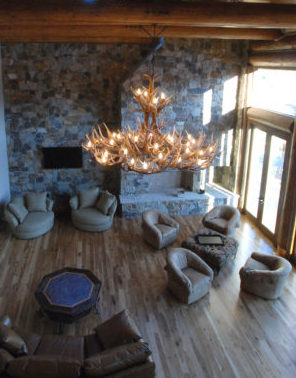 With high ceilings you have a lot of height to illuminate, so look for a two-tier or three-tier chandelier to get the number of lights you'll need – a tiered chandelier may have anywhere from 16 up to 36 lights, or more. Our largest chandelier to date featured 62 candles on a two-tiered iron frame with elk antlers and mica light panels – finishing at 10 feet wide and 8 feet tall: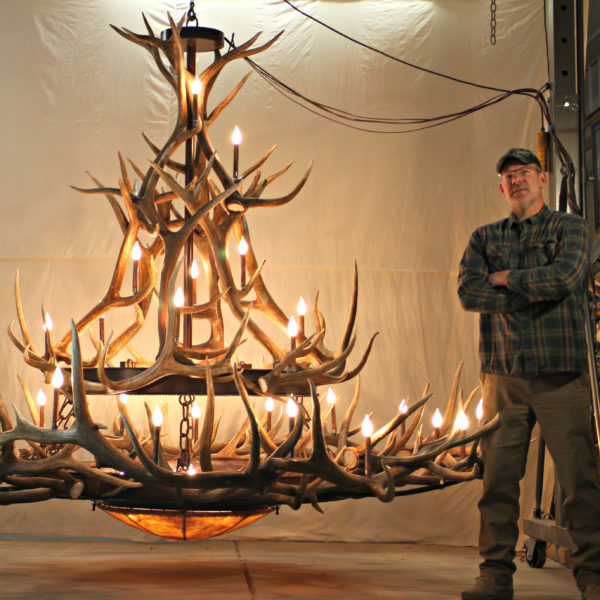 Maker Jeff Musgrave and the team at The Peak Antler Co. design and build custom antler lighting for resorts, lodges, restaurants, hospitality projects, and private residences.  Jeff's work can be found all around the world, and the Peak Antler Co. is a favorite resource for interior designers in Colorado, Wyoming, Idaho, Texas, Nevada and California. What can we build for you?