Tips for getting it just right every time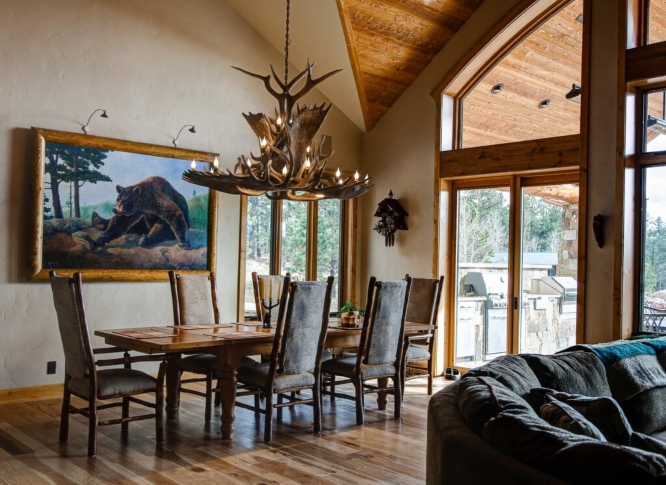 Adding a chandelier over your dining table is more than just a lighting choice, it's an opportunity to infuse style. Whether you're hosting a casual family meal or a grand dinner party, the right chandelier can set the tone for the evening. However, finding the chandelier that is the right size can be confusing. Follow along to understand how to choose the perfect chandelier for your home. 
Consider Dimensions and Seating Capacity
Before diving into the exciting world of chandelier selection, take note of your dining table's specifics. Measure its length, height, and width for a clear understanding of its dimensions. The distance between your ceiling and the dining table is crucial in determining the right chandelier size. A high ceiling allows for larger chandelier options, while a lower ceiling might favor a more compact design. Striking the right balance is essential—you want the chandelier to be a focal point without overwhelming the space.
Also, factor in the number of seats—whether it's a cozy six or a grand twelve. Your chosen chandelier should fit comfortably above the table and provide ample light for everyone.  If your table has a leaf, then base your chandelier size on the table's everyday size, not the once-a-year Thanksgiving table size.
Selecting the Perfect Chandelier Size
Now that you have your table and ceiling measurements, it's time to find the perfect chandelier dimensions. As a rule of thumb, leave 12 to 18 inches of space between the chandelier's tip and the table's edge. This ensures both safety and even light distribution.
For round or small square tables, a round chandelier complements the shape beautifully. Longer rectangular tables or bars benefit from oval chandeliers with down lights, ensuring even lighting. For a dramatic effect, consider multiple pendant lights over a bar area.
Putting Theory into Practice
Imagine you have a dining table measuring 72 inches in diameter and 42 inches in width. With a ceiling height of 13 feet and 7 inches, how do you select the right chandelier size? In this case, we recommend a chandelier measuring around 50 inches in length, 32 inches in width, and 50 inches in height. This proportionate choice ensures that your chandelier complements the table without overpowering it.
Visualize Your Chandelier Choice Beforehand
Understanding the ideal chandelier size becomes much clearer when you can visualize it within your own space. A wonderful way to achieve this insight is by crafting a mock chandelier. Gather some cardboard boxes and tape to fashion a three-dimensional model that approximates the size of the chandelier you're considering. Position the mock chandelier in your room and take a stroll around it, observing from various vantage points. 
Choosing the right chandelier size for your dining room table involves a delicate interplay of dimensions, aesthetics, and functionality. By considering your table's size, seating capacity, ceiling height, and personal style preferences, you'll be well-equipped to select a chandelier that elevates your dining experience.