The Peak Antler Company has been working to collaborate with new artists to create innovative antler art pieces for your next design project. We are excited to announce the release of 4 new table lamps that are now available for purchase!
Fly Fisherman Table Lamp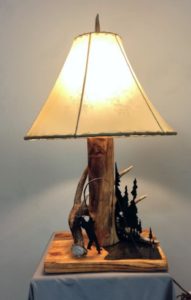 The first new design is the Fly Fisherman Whitetail Deer Table Lamp. As you can already tell by the title, this lamp shows the scene of a fly fisherman casting his line at the base of the lamp. The integration of this metal work, polished wood, and a whitetail deer antler tells a story for nature lovers and fits perfectly beside a reading chair or on the desk of a true outdoors-man. Combining this piece with a rawhide lampshade will add another natural layer to the piece and create a warmly lit space in your mountain home!
Fish & Reeds Table Lamp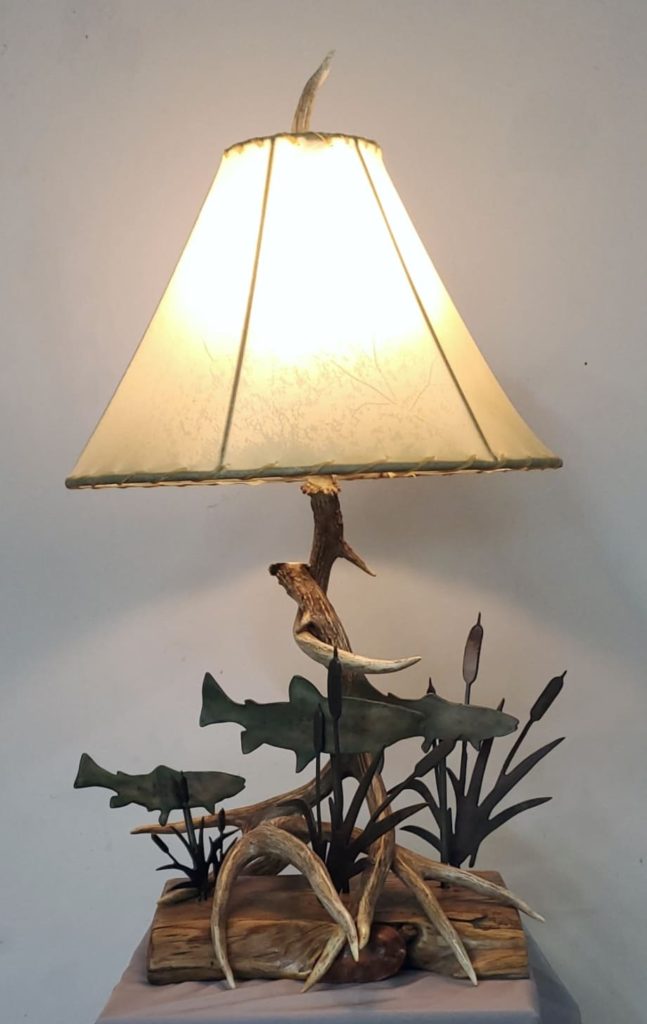 The next new design is the Fish and Reeds table lamp. As another nod to the Fisher-mans lifestyle, this piece features both dynamic swimming fish and flowing reeds crafted from metal. The lamp itself is supported by mule deer antlers much like our other table lamp designs, but the dynamic integration of the other materials creates a dreamy scene at the base of the lighting fixture! It is best complimented by a rawhide lamp shade that can already be found in our online store.
Trophy Base Table Lamp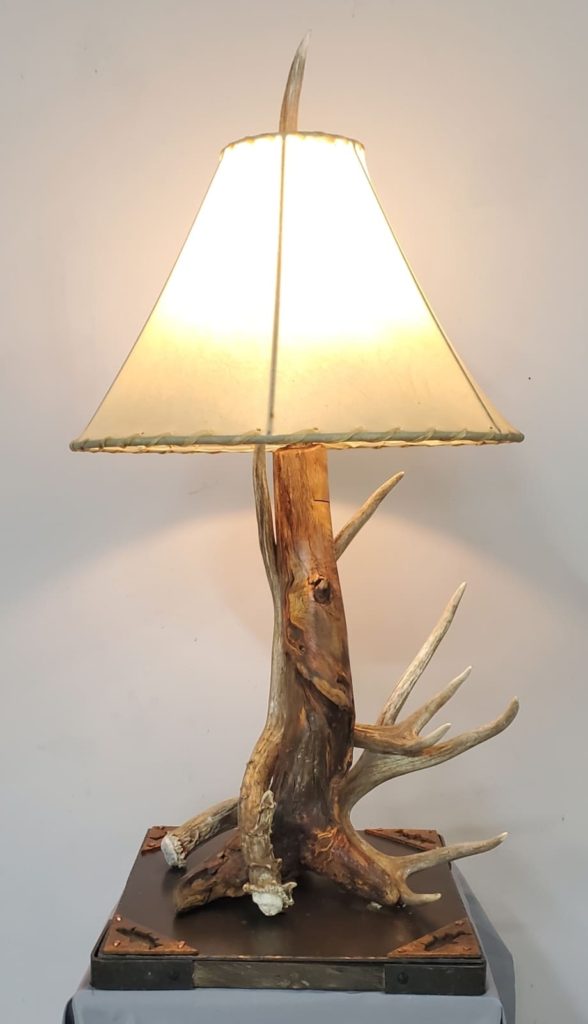 Another new release is the Trophy Base Table Lamp. This one differs from the pieces you have seen so far as it does not depict a lively scene. However the unique use of polished aspen wood and metal corner pieces engraved with fish makes it a sophisticated and more moderate design. The mule deer antlers elegantly twist up the aspen log to create an avant-garde art piece for your modern rustic home. To complete this look, it is worth considering adding our classic rawhide lamp shade!
Pinecone Table Lamp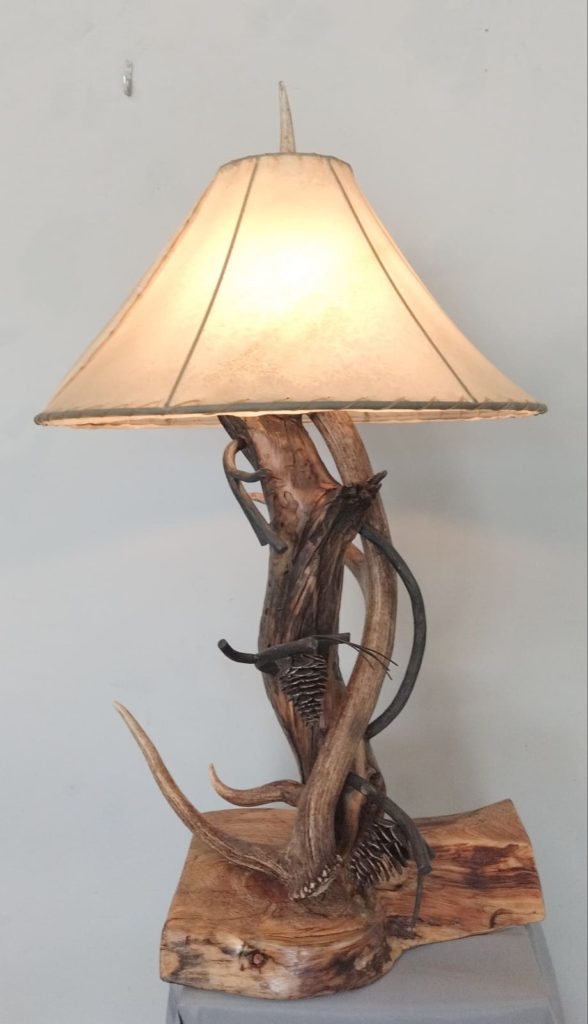 Our final new design is the Pinecone Table Lamp. This design is reminiscent of past pieces with its use of metal pine cones, but the bold elk antlers and metal lines encapsulating the polished wood is a new twist on the classic combination. This simplistic look is ideal for minimalistic designs in rustic cabins, and can be elevated with our traditional rawhide lamp shade to complete the art piece.
Rawhide Lampshades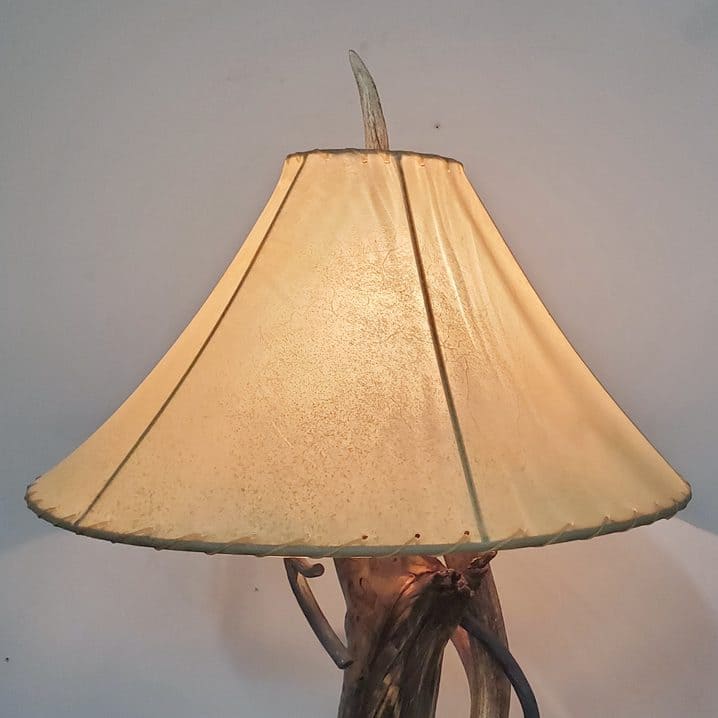 The best compliment to these new lamp designs is our rawhide lampshades. The thinly stretched leather creates a gentle amber glow that aligns with the stylistic design of the lamp bases. The Peak Antler Company has three different sizes for these unique lampshades to ensure it is well fitted for the piece. Adding these rawhide lampshades to your design will unify the lamps appearance and complete the beautifully rustic aesthetic.
All of these beautiful pieces are available on our website. If you would like to know more about the designs feel free to contact us.