Our friends at Tweeds Fine Furnishings helped a client choose two beautiful Elk Antler Chandeliers for their new construction home in Teller County, CO. For their great room with a beautiful 2 story stone fireplace, the homeowners chose a Mt Elbert Large Elk Antler Chandelier.
How Do We Install Large Antler Chandeliers on High Ceilings?
Installing it was eventful as always!  The electrician was on hand but getting the chandelier into the room required a bit more help.  This isn't the first time one of our Mt Elbert antler chandeliers have gone up a second story balcony to get into a home, needing 3 ladders and 4-5 people.
Originally the large Mt Elbert style is made to fit though a 36" doorway.  This one was custom made to 48" tall, which required a bit more strategic approach to bringing it inside. Once inside, scaffolding and pulleys were set in place ready to hoist the 150 pound chandelier up to the electrician waiting at the ceiling.
A Rustic Wood Beam on an Oval Antler Chandelier:
For the dining room, the designers at Tweeds worked with the homeowners to select our Snowmass Chandelier. This rustic oval elk antler chandelier has two down lights, and it's suspended from a hand cut wood beam from a local Colorado lumber yard.  While easier for the electrician to connect the wiring being closer to the ground, it is always handy to have a few extra hands to support the chandelier during install.  Our Teller County field trip was a challenge, but nothing our team couldn't easily handle.
Featured Product: 570-L Large Mt Elbert Elk Antler Chandelier
18 lights. Approximately 60″w x 36″h.
A scaled-down version of the biggest antler chandelier we've ever made, so far.  The elegant Mt. Elbert Chandelier with its swirling base pattern and beautiful mix of elk and mule deer antlers. This large Antler Chandelier is a statement piece for a dining room, great room, or tall entry in a mountain home. The distinctive design is grand enough for a lobby or restaurant in a lodge, resort or hospitality setting.
 Featured Product: 510-L Snowmass Oval Elk Antler Chandeliers

10 Lights. Approximately 52″l x 25″w x 20″h.
Western Style Antler Chandelier -wood timbers hold an impressive array of Elk Antlers suspended by chains. This small oval chandelier is perfect over an oval or rectangle dining table, kitchen island or pool table. The 20″ height with a single timber will fit your dining room, family room, or man cave.
A second tier of timber and chains is optional. Down lights may be added and run on a separate circuit for a variety of lighting options.
We love working with our friends at Tweeds, and seeing the completed design!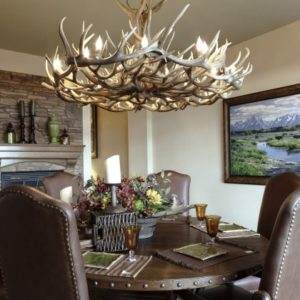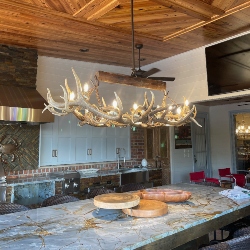 Feel free to contact us with questions and your own unique customizing options.
Modern or Rustic: How to Find the Right Aesthetic for Your Mountain Home