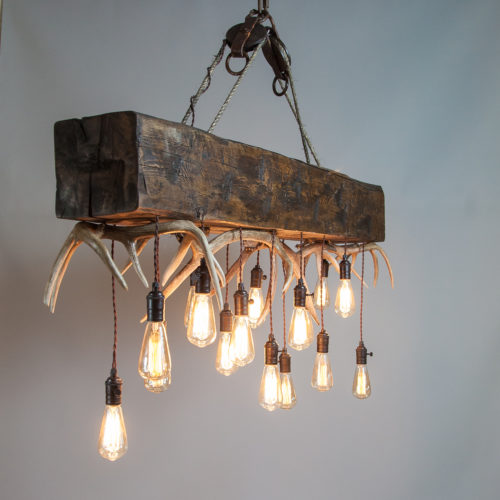 There is nothing quite like being in a serene mountain cabin with a fireplace to warm your toes and rocking chair on the front porch to sit outside and watch a peaceful sunrise. For interior designers or homeowners wanting to create the perfect feel for a western home, The Peak Antler Company is known for custom antler chandeliers, working in many design styles.  Here are some tips they have learned along the way for you.
3 must-haves for your western interior design style:
Faux (or real) furs and hides: For those wanting to create a country feel to their home or design, nothing says "western" quite like an animal hide mounted on the wall, as an area rug, or draped over the back of a couch. Hunters, may want to use hides from their actual hunting adventures. But if that makes you a little squeamish or is just not your style, there are plenty of ideas on how to incorporate faux furs and hides into your design. Check out these gorgeous photos from the Pearson Design Group for ideas.
Antler lighting: At The Peak Antler Company, we have antler lighting as traditional or as modern as you like. If you want a classic western look, take a peek at our whitetail antler chandeliers. If you are going for something more sleek and modern, our mountain modern designs are created with interesting lines, rubbed bronze electrical components, and Edison bulbs.
Lots of natural textures: A western interior design inspired homes must have lots of natural textures in the design. Unfinished beams, timber, and exposed stone are essential in the western design. You don't have to live in an actual log cabin to get a rustic feel. You can have all the benefits of an open floor plan and plenty of natural light while adding natural textures in large or small quantities throughout the design.
For more ideas on how to incorporate antler decor into your western interior design, contact us at The Peak Antler Company today.