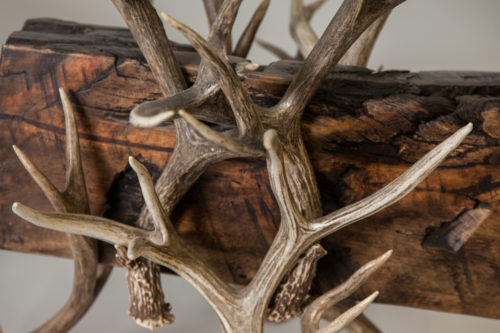 Rustic home decorating styles are more popular than ever before
The newfound prevalence of renovated furniture, antique decorations, and reclaimed wood walls creates a rustic feel that attracts professional designers and homeowners alike. Although some home decorating professionals would have you think that designing a rustic interior style requires a complete room re-haul, creating an authentic rustic feel is actually quite simple. With a few added touches and perhaps simple color changes, homeowners can easily create that classic rustic style of mountain cabins and farmhouses throughout generations.
Accessories Matter
When it comes to creating the traditional rustic feel, the little decorations make a big difference. From antique metal basins to grandma's old rocking chair to installed barn doors, decorations can transform any room or home. Antler chandeliers provide a rustic, mountain cabin feel while still providing a practical lighting solution. It's the little things that matter, and adding even the most subtle of antique accessories creates a rustic feel straight out of the dream mountain cabin.
Keep The Walls Neutral
When it comes to rustic style, neutral walls are the way to go. Other than perhaps an accent wall here or there, neutral colors allow different features like log furniture and antler hangings to dominate the space. Natural, earthy tones like cream and soft grey add to the rustic feel without taking away from some of the fun pieces in the room.
Reclaimed Wood is In
Whether on the walls or incorporated into different furniture pieces, reclaimed wood adds a rustic feel that cannot be duplicated in any other way. Old barn wood or broken down pallets make for a beautiful wood accent wall to add some character to otherwise neutral wall colors. Homeowners can also give old wood furniture a second life with a new coat of stain and replacement cushions.
Looking to create the perfect rustic look for your home? Contact us to discover your decorating options!
We specialize in custom work and enjoy working with designers to suit even the most specific requests. We create each antler piece to order which allows unlimited ability to customize size, finish, upholstery and anything else you may need for a well defined piece. We work with interior designers, retail outlets and homeowners alike. Our custom approach blends into Mountain Modern interior design styles as well as the traditional, cabin and lodge antler design. Feel free to contact us with questions and your own unique customizing options.