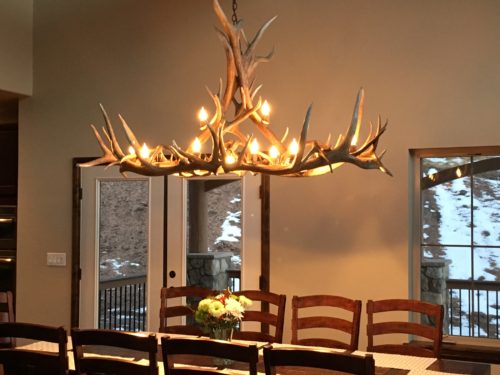 Rustic cowboy home decor is very popular right now. People are drawn to the rugged, timeless look of old west items as designer accents.  Here are some ideas to add some cowboy decor to your home.
Walls, floors, trim 
When thinking of the major components of your home decor, stick with lots of natural wood.  Oak, maple, and walnut all work beautifully for flooring options.  For a more rustic look, choose a wide board with some knots and swirls.  If hardwood is out of your price range, check out some of the laminates on the market. They are easy to install and add the look of wood.
Wall colors should be neutrals.  Think of the colors of the old west- lots of tan, khaki, gray,and beige.  Keep colors muted and soft so they are not overwhelming. Match trim to the ceiling color for a cohesive look. For a pop of color, try a deep burgundy in the dining room or kitchen.  Combined with the natural wood, it creates an eye-catching wow factor.
Kitchen decor
To achieve the rustic, cowboy look in your kitchen think of using unusual items like chicken wire for cabinet fronts.  Hang an old yard rake from the wall to hold wine glasses. Consider an antler pot rack above the stove.  Store spatulas, turners, and serving spoons in a miniature wooden barrel or galvanized bucket. Use an old stirrup or bit to hang your kitchen towels and potholders. Add accents of brown, turquoise, and gold to tie it all together by purchasing brightly colored dishes, shakers, and appliances.
Dining room
A long, narrow table provides the inspiration for a rustic dining area.  Again, stick with natural wood.  Benches create a truly ranch like feel, but wooden ladder-back chairs also work well.  A hutch or sideboard in the same wood as the table offers extra space for serving and storage.  Table runners, chair pads, and napkins should carry that same color palette of brown, burgundy, turquoise, and gold throughout the house.  Top it all off with a antler chandelier. Fill mason jars or antique milk jugs with dried, preserved flowers tied with a simple ribbon.
Bedroom
Look for a tall, sturdy wooden headboard or make your own from 1×4's and 2×6's.  Top the mattress with a traditional Lonestar or Wedding Ring quilt or a Navajo print bedspread.  Wrap the edge of a mirror with rope and add a few dried flowers.  For a simple, yet stunning, wall decor item hang an old lasso over the headboard, spreading it across the wall, while leaving a few loops and twists.  Add some straw cowboy hats and a horseshoe or two. Throw a few woven rugs on the floor, keeping those traditional rustic colors you have already used. Hang some antler racks on the wall to hold robes and jackets.
Bathrooms
The bathroom is a place where you can really let your inner cowboy loose.  Use a hamper made of chicken wire and wood to catch your dirty laundry.  Hang your towels from old stirrups, bits, or bent horseshoes.  Use faux wood grained tile in the shower and natural wood for your vanity top.  If you are really adventurous, replace your bathtub with a galvanized horse trough.  Complete the look with a galvanized pail with an old timey pump handle instead of the traditional bathroom sink.  Use glass wall lanterns in place of traditional lights.
The cowboy lifestyle is still popular.  Ropes, hats, and saddles can all be used as home decor items. Bring in unusual things like bits, spurs, and horseshoes for aesthetics and function.  Reclaimed wood, animal skulls, and antlers provide the feel of the old west. You can bring a little of this rustic look into your home easily. You can simply add a few accent pieces or go over the top in every room.  The options are limitless.