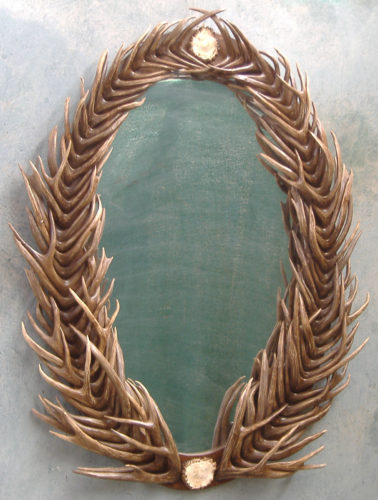 Even though cowboys are not as prominent as they once were across the American landscape, they are still respected and admired by all ages.  Because of this, it's not just five year old boys who want a cowboy design themed bedroom. While the inspiration may be more grown up than Toy Story's Woody there are still plenty of options.
To begin with, step away from the bright red and blue bandannas, ropes, wagon wheels, and horseshoes. Look to more subtle images and colors , such as a rusty red or a pale blue, some repurposed pallet bookshelves will blend in well with those subtle colors. Ropes can still be incorporated but perhaps in the form of an old fashioned rope rug.
Antlers, in all their forms, also make a nice addition to the cowboy design theme. Large mounted antlers can be placed above a mantle, a custom made antler mirror, or the bed in place of a headboard or to supplement one. Small antler pieces can be used as simple decoration along shelves or a mantle piece, or even used as to decorate curtain rods, or as the rod itself.
Or you can opt for antler mirrors in various styles, as they are decorative and useful. Antler lamps and wall sconces fit into those categories as well.  If you're fortunate to have a fireplace, you can add an antler fireplace tool set.
While antlers make wonderful accent pieces they also make excellent focal points, such as an antler chandelier. Since antlers come in all sizes and varities so do the chandelier options, so they can fit into any size or style room.
For more information on any of our products, feel free to contact us.
The Peak Antler Company
peakantlers.com
Jeff Musgrave owner-artist
719-641-8844