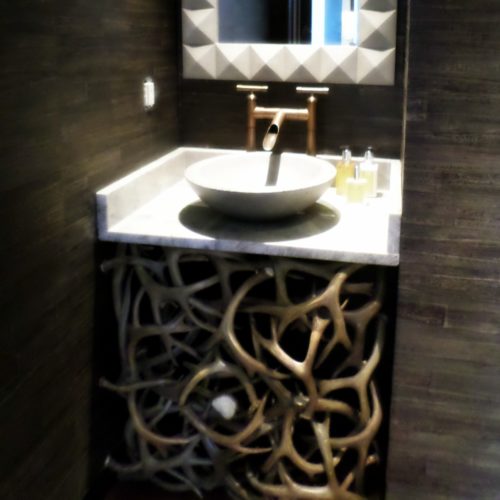 Custom Bathroom Vanity Antler Sink
A Designer from Chapman Design contacted me with the idea and dimensions for a custom built vanity sink project. I had never done anything like this before. I laid it out roughly what I was thinking, put together a quote and sent photos and details back and forth with designer until we had developed the best way to approach this project.  Apparently antlers can be in a medium in any home décor, everything from cabinet door handles, furniture, lighting and now to the kitchen (or bathroom) sink!
Antlers have been used to decorate bathrooms for years.  Typically they are displayed as smaller useful items such as towel racks and toothbrush holders.  A recent trend has changed the old ways and now antlers are used in lighting, both wall mount units and full size antler chandeliers.  We were very excited to take the antler designs even farther when working with interior designers plan to include a vanity antler sink in the guest bathroom of a new home build.
Contact our artist directly to discus your own unique antler project!
"Hey Jeff, I just installed our job last week. The antlers looked fabulous.  My client is thrilled! Thank you!" Susan Bowman of Chapman Design Registered Interior Designer- #487
See more uses of antlers in a country style bathroom designs at DecorPad.
"Beautifully design country style bathroom features a gray washed plank tub finished with a honed white marble tub deck and oil rubbed bronze deck mount tub filler illuminated by a faux antlers chandelier hung from a gray washed plank ceiling in front of a window covered in a platinum gray roman shade. A beige sheep skin rug covers flagstone tiled floors tiles leading to a a seamless glass shower boasting cream marble floor and ceiling tiles, a honed white marble shower surround, and a brass shower kit."