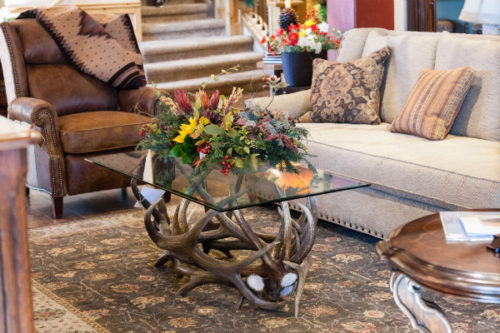 Antler Furniture
Are you looking to make some home decor changes in your living room? Or are you looking for a few extra pieces to compliment the elegant, rustic ambiance of your home? Look no further! You have come to the right place! In this post, we will talk about a couple of popular antler furniture options to add more charm to your living room.
Antler Coffee Table: Virtually everyone has a coffee table sitting in front of their sofa in their living room, but how many people can say they have a custom-made antler coffee table? Opting for an antler coffee table instead of a traditional coffee table is a great way to enhance a "mountain modern" interior design theme. Not to mention, an antler coffee table is far more durable than other coffee tables constructed with conventional wood material. Some of the post popular antler coffee table options include elk antlers and mule deer antlers.
Antler End Table:  The same can be said for custom made rustic or mountain modern style antler end tables.  Since they are made to your specifications, a set truly is created to compliment each other.  Consider a coffee table and multiple end tables handcrafted side by side, together as one complete designed set.
Antler Chairs: What is a living room with a couple of chairs? And what is a rustic-themed living room without chairs constructed out of antlers? Particularly for homeowners who live in a wood lodge, cabin, or countryside home with an undeniable rustic ambiance, a living room just would not be complete without an antler chair. One of the most popular antler chairs is the chair and ottoman set made with elk and fallow deer antlers. For homeowners with a den or home office, the elk antler roller desk chair is the way to go.
Contact us today for more information.