Artistic pieces made from antlers add a natural touch with a modern flair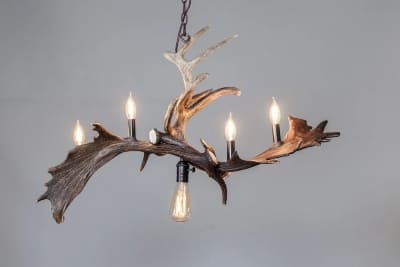 Chances are when you think of antlers in decor, you think of the words traditional, western and rustic. But there are many creative ways to use this versatile resource in mountain modern design, whether you are looking for a touch of elegant simplicity or something with show-stopping grandeur.
Modern touches like soft grey and white washes, as well as accents such as oil-rubbed bronze and softly patinaed copper put a fresh spin on this classic element of nature-inspired design. And since each piece is uniquely sourced from nature, they can be formed into a custom-made work of art by a skilled artisan, resulting in a stunning centerpiece that is both functional and beautiful.
Here are a few creative ways to incorporate these natural wonders into your mountain modern design.
---
Simply elegant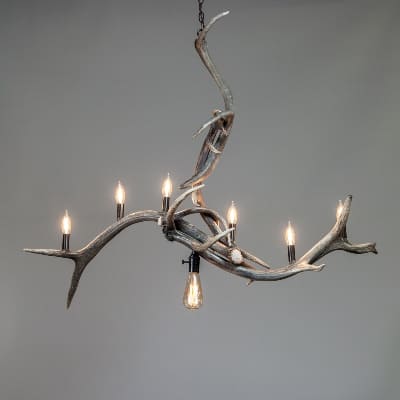 The long, elegant lines of this fixture, made from curvy elk antlers treated with a subtle cool grey-washed finish, nicely compliment the sleek simplicity of mountain modern design. The rich oiled bronze electrical components add depth and richness.
---
Lighting as a work of art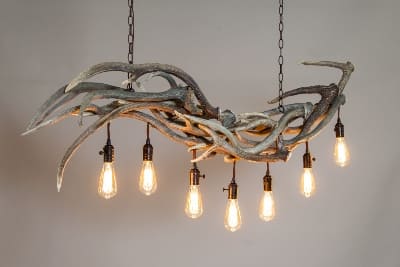 ---
A show-stopping beauty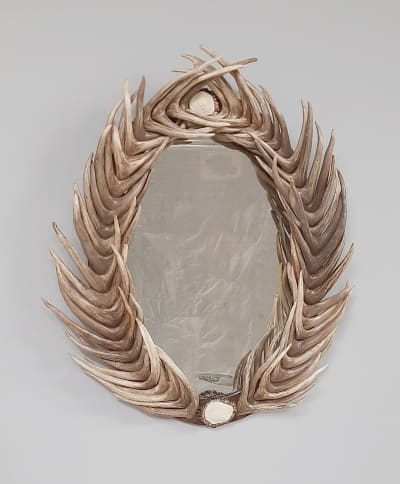 This herringbone mirror would be a stunning centerpiece for an entryway or over a fireplace mantel. Made from shed mule deer antlers, each piece is individually cut and fitted together over a solid wood frame. The mirror, which can be hung vertically or horizontally, is accented at both ends with elk antler "buttons".
---
A touch of modern industrial style
For a modern industrial touch, this stunning ceiling light fixture features the natural beauty of elk and whitetail deer antlers affixed to a large wax-stained industrial timber. The rich earth tones of the natural elements are accented with rubbed bronze electrical components and suspended by a weathered rope and pulley. The artful arrangement of Edison bulbs hanging at different heights provide ample illumination to any space.
---
A fresh take on a dazzling classic
A whitewashed antler chandelier can be light and airy in a rustic room, or make a statement when contrasted with a dark ceiling. The stained finish brings out the sculptural quality of the antlers, while allowing their natural texture to shine through.
---
Creating the Perfect Chandelier For Your Home – https://www.mountainliving.com/creating-the-perfect-chandelier-for-your-home/
<link rel=canonical href="http://www.MainBlog.com/original-article.html"/>